Hummingbird Cake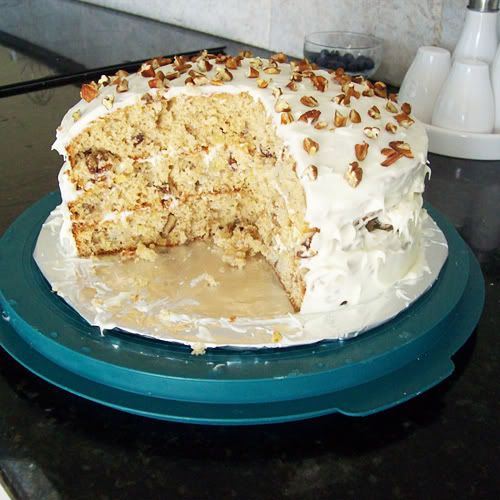 Happy Father's Day!

My dad's favorite kind of cake is Hummingbird Cake. I only learned this recently, last week, when I was searching around the Interwebs for something to bake and found this recipe for Hummingbird cake. I mentioned it to him, and he practically morphed into a little girl. "Ooh! I love Hummingbird cake!"

So, of course, I made it.

I spent some time deciding between this recipe and a Paula Deen one, but it came down to a matter of convenience: I've got a ton of all-purpose flour and no self-rising, so I chose to make this one, from Blogchef.net. I was not disappointed -- it was awesome!


This cake rich and moist and I absolutely love the icing. As you may be able to tell from the picture above, I didn't even get a picture of it while it was whole. My dad thought it was great, too, and between the time that I took this picture and uploaded it to my computer, the cake has grown considerably smaller.

Without further ado, the recipe, via Bobby at
Blogchef.net
- modified slightly:

Ingredients:
3 cups all purpose flour
1 teaspoon baking soda
1 teaspoon salt
2 cups sugar
1 teaspoon ground cinnamon
3 eggs (beaten)
1 cup vegetable oil
1 1/2 teaspoons vanilla extract
1 (8 ounce) can crushed pineapple (with juice)
1 cup pecans (chopped)
2 cups bananas (chopped)

Topping:
1/2 cup pecans (chopped)

Cream Cheese Frosting:
1 (8 ounce) package cream cheese (softened)
1/2 cup butter or margarine (softened)
3 1/2 cups powdered sugar
1 teaspoon vanilla

Instructions:
1. Pre-heat the oven to 350 degrees. In a large mixing bowl combine flour, baking soda, salt, sugar and cinnamon. Add eggs and oil, stirring until the dry ingredients are moistened. Stir in vanilla, pineapple, 1 cup pecans and bananas. Pour batter into 3 9" round baking pans.

2. Bake at 350 degrees for 25-30 minutes or until a toothpick comes out clean. In my convection oven, I found about 20 minutes was enough. Remove from the oven and allow to cool in cake pans on a wire rack for 10 minutes. After 10 minutes remove from the cake pans and cool completely.

Note - I had a hard time getting the cakes out of the pans, and unfortuately, there were some large crumb casualties. Next time I'll use more Pam spray to try and avoid this, so you should probably do that too.

For the frosting:
1. In a mixing bowl beat cream cheese and butter. A little at a time add powdered sugar until the mixture is smooth. Add vanilla extract.

2. Frost cake with the frosting and top with 1/2 cup chopped pecans.

Yeah, so, enjoy! I'd love to know how it turns out for you if you make it!
Labels: cake